This dish is traditionally made with the large cabbage usually sold as 'Chinese leaves' and sometimes as 'Peking cabbage' in the west, but it is also delicious made with our own home-grown sweetheart cabbage. You can make it at any time of year but we like it in Spring when the cabbages are sweet and easy to digest. Sichuan peppercorns or prickly ash help digest both the cabbage and the tofu.
Serves 2 as a main or 4-6 as a side| Prep time: 2+ hours | Cooking time: 40 mins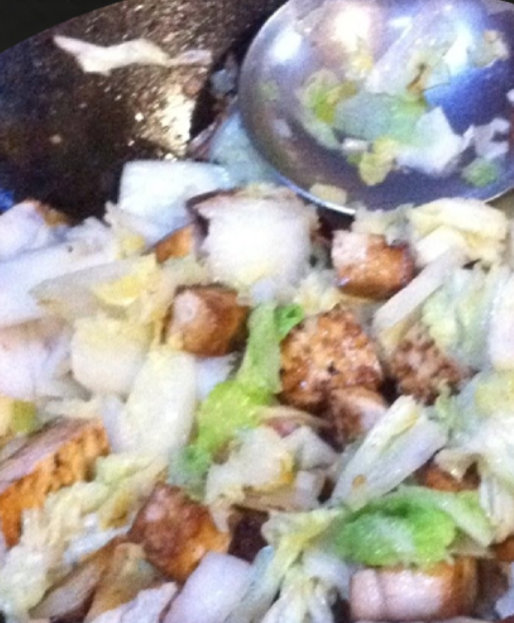 For the marinade:
3 tbsp light soy sauce 2 tbsp rapeseed (or melted coconut) oil 1 tbsp cooking wine (or sherry/ brandy/any wine)
1 block firm tofu
1 large sweetheart cabbage
½ tsp Sichuan peppercorns
1 tsp ginger, minced
1 tsp spring onion, minced
1 tbsp rice vinegar
2 tsp coconut sugar
1 tbsp light soy sauce
½ tsp Himalayan rock salt
2 tbsp ghee or coconut oil
Drain the tofu, cut into cubes, put in a lidded container and add the marinade ingredients. Put the lid on the container and shake well. Marinade for at least 2 hours, shaking occasionally.
Remove the tofu from the marinade and roast at 200°C for 20-30 minutes, turning half way through, until the edges are crispy.
Chop the cabbage into pieces of about 1 inch square. Sort the thick stalks from the more leafy bits. Heat the wok, add the ghee/oil and heat. Throw in the Sichuan peppercorns and toast them until they begin to turn black (you can take them out after that if you like), then add the ginger and spring onion.
Next add the cabbage – thicker pieces first. Toss and fry, keeping the cabbage moving so that it cooks quickly and evenly. As the cabbage starts to soften, add the vinegar and sugar and stir-fry for another minute. Add the soy sauce and the salt, stir, turn down the heat, and simmer for another minute or so. Add the tofu pieces and mix in well.
Remove from the heat and serve immediately.
P – A great dish for Pitta digestion
V – If cabbage tends to make you bloated or worse, try adding some soaked wood ear mushrooms, and even a pinch of hing (asafoetida) 
K – You can add dried chilli as well as the Sichuan peppercorns