Beetroots are an Ayurvedic superfood, especially when cooked and not pickled. They are easy to grow at home too. This recipe is an unusually quick way to make a meal of them. If you wish you can make an even quicker version, though the flavours will not be as deep.
Serves 2-3 or 6 with another curry and rice | Prep time: 15 mins | Cooking time: 20-25 mins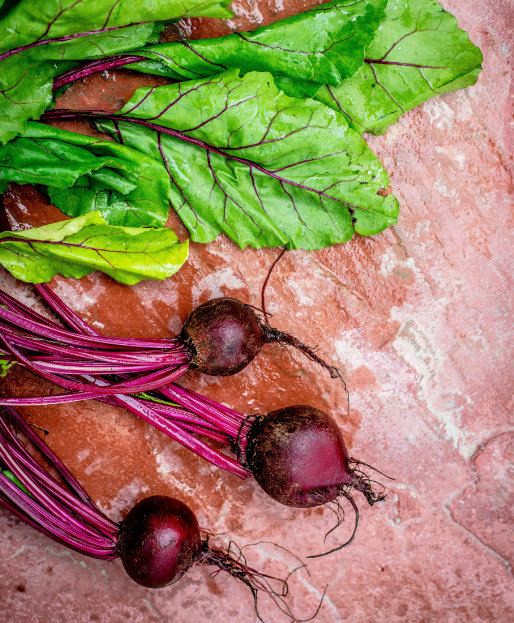 400g raw beetroot
2 tbsp ghee or coconut oil
½ tsp black mustard seeds
1 onion, finely chopped ½ tsp fresh ginger, finely chopped
1 green chilli, seeded and cut into fine strips ½ tsp ground turmeric
1 tsp cumin seeds
½ tsp Garam masala 2 tomatoes, skinned and chopped 250ml water
100ml coconut milk
Pinch of salt
1 lime, juiced
Peel the beetroot (you might want to wear rubber gloves to avoid staining your hands) and cut into matchsticks. Heat the oil in a wok or saucepan, then add the mustard seeds. As soon as they begin to jump, add the onion, ginger and chilli and fry until the onion is tender.
Add the remaining spices and beetroot; fry for a further 1-2 minutes. Add the tomatoes, 250ml water, the coconut milk and a pinch of salt.
Leave to simmer for 15–20 minutes, stirring the mixture occasionally until the beetroot is tender. Stir in the lime juice, taste, adjust the seasoning and serve.
P – Raw beets provoke Pitta but cooked beets are pacifying as cooking turns the starches into cooling sugars—a cleansing food for the liver, and the coconut is cooling too. Enjoy
V – A comfortable food for Vata digestions
K – In small amounts only—a bit sweet and rich for Kaphas