The addition of vegetables make this into a complete meal. Carrot can be quite 'pitta'/ heating, but is balanced out by the coriander which is cooling. Or chose your own         vegetable combination! Courgette and sweet potatoes are good in winter or to lower 'vata' but use a little less water as they are moist vegetables.
Serves 3-4 | Prep time: 15 mins (+ 2 hrs soaking time) | Cooking time: 35 mins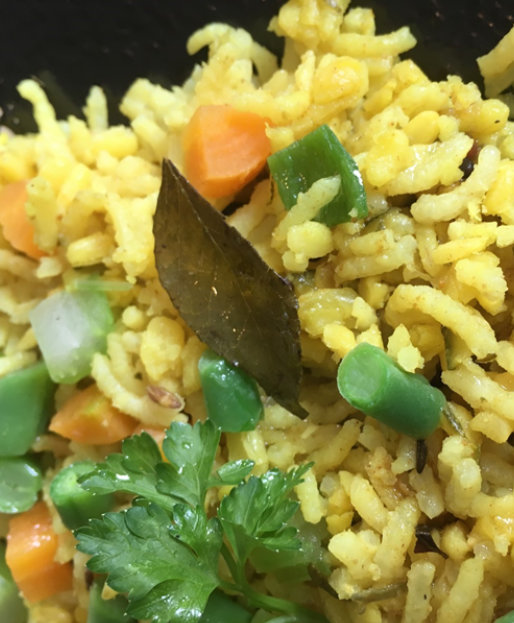 1 cup Basmati rice
½ cup yellow split mung dal
3 tbsp ghee or coconut oil
1 tsp black mustard seeds
1 tsp cumin seeds
1 pinch hing (aesfoetida)
1 tbsp curry leaves
1 tsp turmeric
1 knob of ginger, finely chopped
1 carrot, peeled and grated
1 leek, chopped
100g green beans, chopped into
1cm lengths
½ tsp salt, or veg stock cube 3-4 cups filtered water or vegetable stock (or use thumb method)
Fresh coriander, chopped
If you have time it is best to soak the mung dal for a few hours before cooking and rinse well. Other wise just wash it, and the rice too.
Then heat the ghee or coconut in a saucepan over medium heat, add the mustard seeds and wait until they pop (you can cover the pan). Add the cumin seeds and let them turn colour, then the ginger and onion and stir until they soften a little.
Add the curry leaves, tumeric and hing then the    other vegetables, and stir again. Finally add the rice and dhal and mix well.
Pour in the water, bring to the boil, then turn the heat right down, leave the lid very slightly ajar and simmer for 20 minutes (adding more liquid if necessary).
Add the salt* about 5 minutes before the end of cooking time so it does not toughen the beans. Add the coriander to garnish.  * no salt if you used a stock cube
P – Enjoy but go easy on the mustard seeds
V – Could not be better for you, top with extra ghee or raw oil
K – This is good for all Doshas, but enjoy in moderation and perhaps use a little less ghee