Yoga online and live to start the day
Classes where you can be part of a small community
Tuesday  7.30 – 8.15 am – A practice based on Kundalini – the yoga of awareness, including mantra, mudra, breathwork and energising movement. 
And Friday 7.30 – 8.15 a.m – Wake up to the week-end a varied class including elements of Flow and Hatha yoga and Qi Gong style mixed movement and works with the energy of the season
'Yoga & Spice online started during lockdown and I just love our online community so much that I plan to continue indefinitely. The group is small enough for me to be aware of who is in the class and respond to feedback or requests but big enough to be a community'.
Online membership is £30 per calendar month and includes four recordings per month to make up for missed classes, or additional practice, membership evenings, and discounts at Day Retreats and  Aerial Yoga afternoons depending on availability.
The right class for you
I like to describe my classes as energetic but accessible and I truly see yoga as a mind body practice – much more than an exercise class but with all the benefits. 
Our Kundalini yoga style Tuesday morning class is popular with experienced students and new comers alike. The movements are usually simple, often with a number of repetitions; some are similar to the postures of a 'regular' yoga class, others are unique to the style and reach parts of mind and body that other practices do touch!
Our varied Monday morning classes harness the energy of the season to create a yoga practice which incorporates both traditional posture work and a more somatic approach, building awareness to break habits and holding patterns and reduce stress in mind and body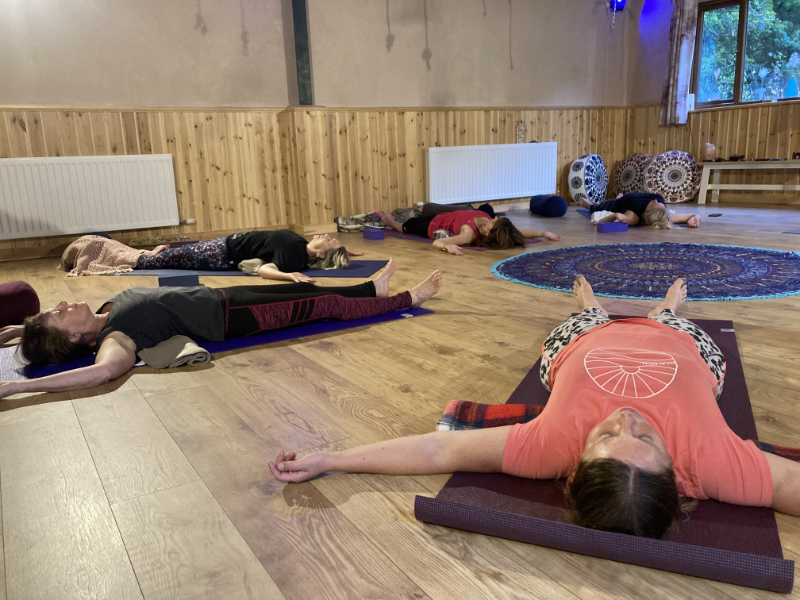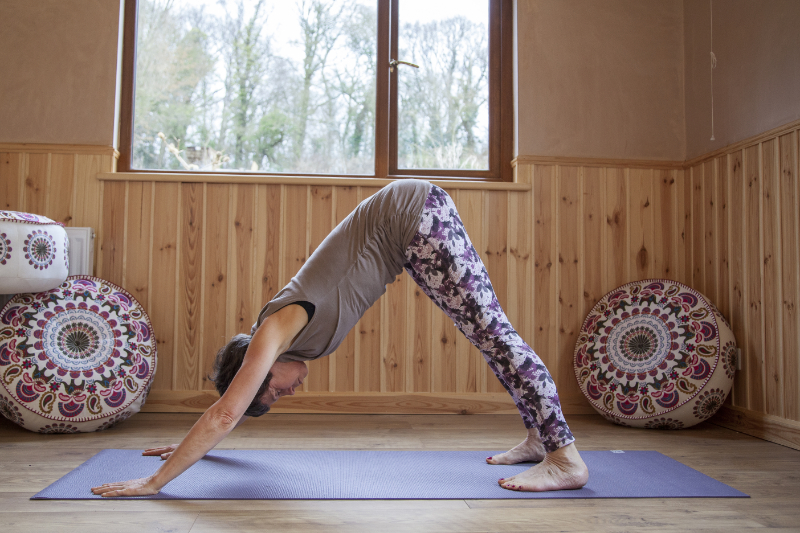 What people say
"Starting the day with Lorraine's yoga class online has become a twice weekly treat for me. I love the way she draws upon her wealth of experience of different yoga practices, awareness of the breath, and Chinese medicine, to create a unique , holistic, whole body practice – which is highly enjoyable and often makes me smile!" Cleo
'I am so grateful to you Lorraine for giving us such a variety' Irene
I came to yoga late in life but I find with Lorraine's excellent teaching I now enjoy stretching out and feel less stiff in the morning.' Sarah
'We are not just a class – we are a community' Marianne
Vinyasa Flow plus
My style can loosely be described as Vinyasa flow, where the practice literally flows with the breath. But I weave threads of 'Qi gong', which means to move the energy, into the practice. If a posture needs explanation I may adopt a traditional 'Hatha' (which just means posture) approach. And sometimes I introduce a restorative or Yin session, where postures are held for several minutes, to relieve physical and mental tensions.
While I try to add interest and challenges for those who like them I, just occasionally, remind us all that yoga is not a competitive sport. Yoga is is less about how 'well' you do a posture and more about where your head is when you are doing it. And while many people simply come to the mat to improve flexibility, most leave having gained much more than looser hamstrings.
Seasonal yoga
I teach Seasonally, creating classes that work with the pre-dominant energy of the time of year. This concept is based on ancient traditions from Asia but I often adapt classes to suit the unpredictable UK weather or the, equally unpredictable, mood of the moment.
You can learn more about our seasonal themes in Seasonal yoga for life. The Chinese Meridian theory works with different organs of the body; Ayurveda focusses more on how the elements of nature manifest in our make up. For the more sceptical yogis among us, I also explain how different postures help with aches and pains or tension in the body. And I include breathing exercises and guided relaxation to help with stress related issues too.
Kundalini Yoga 
I have recently started to teach Kundalini Yoga. This transformative practice is the fastest growing style of yoga on the planet. 'The yoga of awareness, Kundalini works with breath, body and sound to help break through the blocks which are holding us back from realising who we really are. And it makes you feel great.