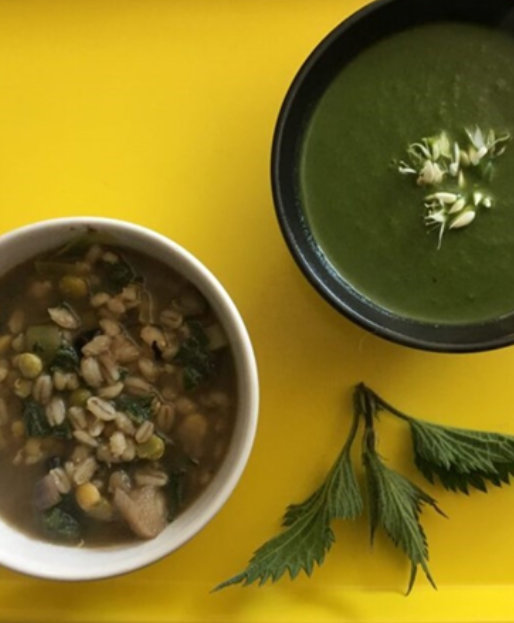 When you grow your own food there is always a gap between the end of the winter crop  and the bounty of the new season, but this is the time when you can enjoy foraging for natures offerings. The wild leaves in these next two Spring recipes are delicate in flavour but packed full of nutrients.
1 small onion 1 leek 2 celery sticks 1 carrot 1 small potato 200g nettle leaves 250g wild garlic leaves
Dice the vegetables. Clean the wild leaves and pull the nettle and sticky jack leaves off the stalks (wearing gloves) and discard the stalks. Melt the coconut oil and fry the onion, celery, carrot and potato until softened. Then add the leek and mix together. Add the stock and bring to the boil, then 50g sticky jack leaves (optional) simmer for 15 minutes until all the vegetables are soft. 2 tbsp coconut oil 1l homemade vegetable stock (or use a good quality cube) Use a hand blender to blend to a puree (or sieve if you ½ cup single or soy cream want a totally bit free soup) and then add the cream and extra liquid if needed.
P – Eat regularly—all those greens are good for pitta
V – Enjoy with extra cream and perhaps leave out the onion. Wild garlic is kinder to a Vata digestion than the bulb