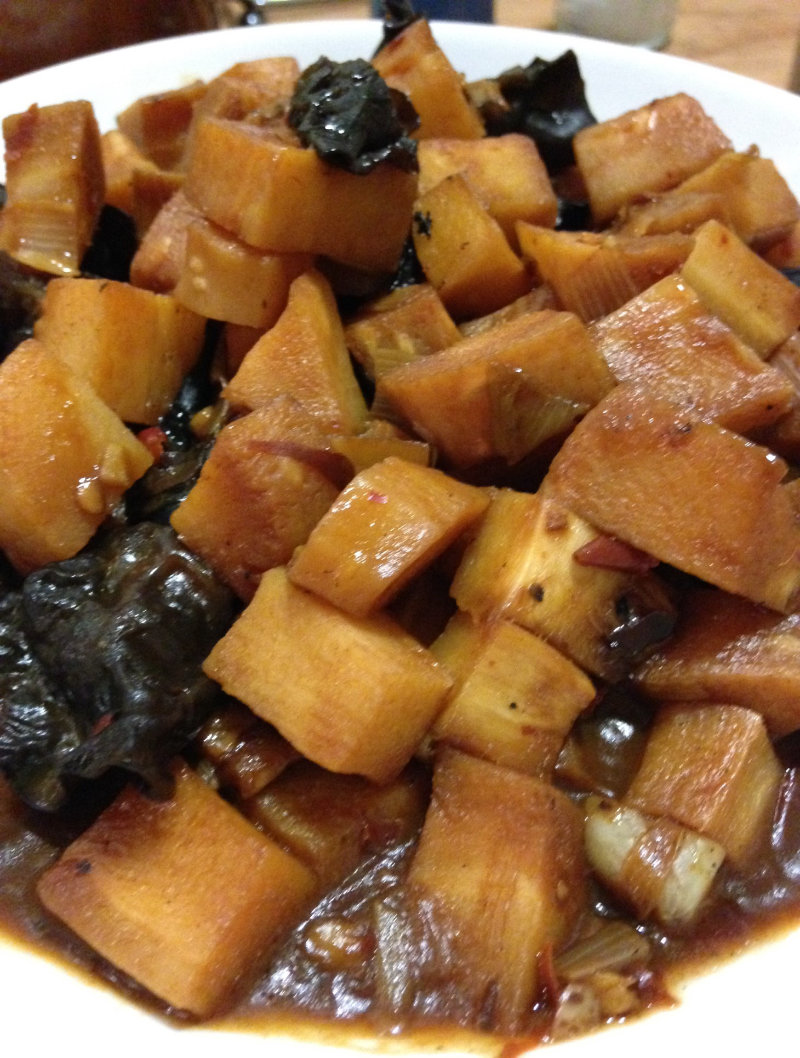 Parsnips are a bumper crop for us. In typical Chinese style this dish takes a humble vegetable and creates a tasty vegan meal. All you need to add is a green vegetable and some rice. This recipes serves 2 but you can easily increase the quantities.
The slightly spicy yet sweet and sour flavours complement the parsnips perfectly. The wood ears (dried fungus) also add depth to the texture of the dish.
*You do need the Pixian chilli paste for an authentic flavour. If you cannot find it in your local Asian store try https://www.souschef.co.uk/products/szechuan-sichuan-chilli-bean-paste
Makes 2 | Prep time: 5 mins | Cooking time: 15 mins
2 medium/large parsnips
10g wood ear mushrooms (hydrated in warm water)
2 tsp sugar
1 tbsp light soy sauce
1 tbsp rice vinegar
½ tsp cornflour dissolved in ½ cup water (extra water if need-ed)
1 tsp ginger, finely chopped
3 cloves garlic, finely chopped
1 tbsp cooking wine/sherry
2 spring onions, finely chopped
2 tsp Pixian chilli bean paste*
Coconut oil or ghee for frying
Peel the parsnips. Cut in half vertically then cut each half into four strips. Then cut the strips on an angle to create triangular pieces (or dice if this is too complicated!). Clean the wood ears, rinse and drain, then break up the pieces.
Make a mix of the sugar, soy sauce, vinegar, and cornflour and water. Heat the wok, then add a good tablespoon of oil and heat until it starts to move.
Heat the wok then add the oil. Add the chilli bean paste and stir until the oil becomes coloured. Then add the ginger, garlic and spring onion and stir until fragrant, taking care not to burn. Put in the parsnip pieces and fry for a minute or so to absorb the flavours. Add the cooking wine and then the liquid mix, and the wood ear mushrooms, stirring well. Allow to come to the boil, mix well then turn down. Simmer until the parsnips are cooked through (about 10 minutes), adding extra water if necessary.
Note: For a richer more textured dish you can baste the parsnips pieces then roast for 15 minutes at 200°C, before adding then to the pan. Then you only need to simmer the sauce for a few minutes.
P – Root vegetables are great but go easy on the chilli paste
V – Enjoy—not too spicy though
K – Spice it up and eat in moderation