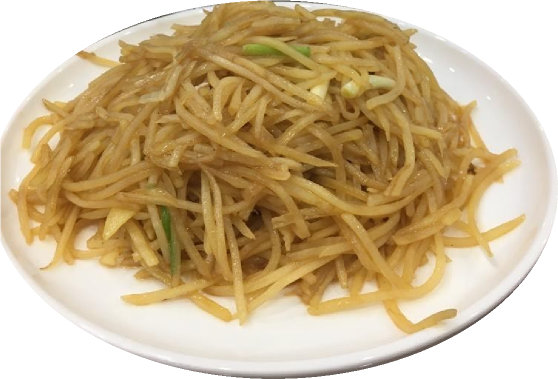 Following our Chinese theme, but totally vegan, and suitable for most Ayurvedic diets, here is a simple seasonal recipe to add a zing to that staple, the humble potato. Though actually China has a very different relationship to the potato than the west, seeing it as a vegetable to be cooked in interesting ways, and not a staple at all.
This sweet and sour version is a great favourite with children. If you like a little spice you can stir fry the potato shreds with thin strips of green chilli pepper, or even a crumbled dried red one, but then leave out the vinegar and just add a small pinch of sugar.
Serves 4 with other dishes | Prep time: 10-15 mins | Cooking time: 10 mins

400g (normally 2) waxy potatoes,
washed and peeled
2 tbsp oil
½ tsp Sichuan peppercorns
1 tbsp red rice vinegar
1½ tbsp sugar
½-1 tsp of salt
Cut the peeled potatoes into slices and then into very thin matchstick shreds. Soak in cold water to get rid of the excess starch. Tip away the water and drain well.
Heat the wok, until very hot, and add 2 tbsp oil. Add the Sichuan peppercorns, let them sizzle until they are black and all the flavour is released, then remove with a slotted spoon.
Turn up the heat (the oil needs to be hot for this dish) and tip in the potato and stir-fry rapidly, tossing and turning. All the pieces need to come into contact with the wok.
Add the vinegar, toss and turn, then the sugar, and lastly the salt. Mix again to distribute the flavours. Taste a piece of potato—it should be crunchy but not raw! If you are happy with the texture and seasonings, serve.
P – Do not add too many peppercorns, otherwise enjoy!
V – Potatoes can irritate Vata but this recipe does make them more digestible than usual so see how you go
K – Enjoy in moderation and spice it up