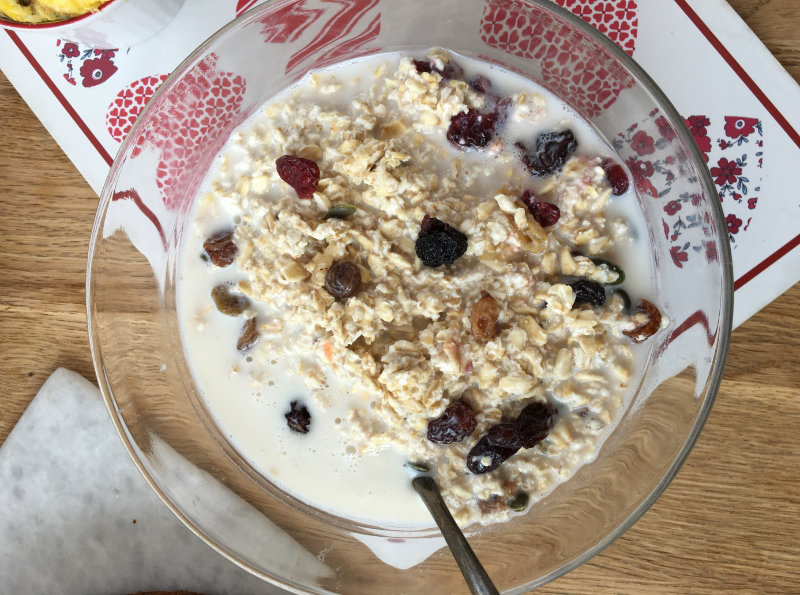 Simple to make, easy to vary and always popular. Do use jumbo oats as porridge oats go stodgy! And vary the ingredients according to what is in your store cupboard.
Makes 6-8 portions | Prep time: overnight
2 cups jumbo oats
1 cup flaked barley (or more oats)
¼ cup peeled raw nuts, chopped
¼ cup seeds
⅓ cup dried blueberries or raisins
⅓ cup flaked or desiccated coconut (optional)
½ tsp cinnamon
¼ tsp cardamom
¼ tsp nutmeg
½ tsp cacao or carob
300ml coconut or almond milk (or to cover)
½ tin coconut milk/cream (optional)
Mix all of the ingredients together, cover with coconut or almond milk and soak overnight. You can store this in the fridge for a couple of days if covered. But best served at room temperature.
You can add more oats in place of the flaked barley if this is hard to find.
To make a creamier muesli add tinned coconut milk/cream.
P – A sustaining breakfast for Pitta appetites
V – Okay but can be heavy for delicate digestions. Don't eat it straight out of the fridge—and feel free to add cream or coconut cream
K – In moderation. Better warmed