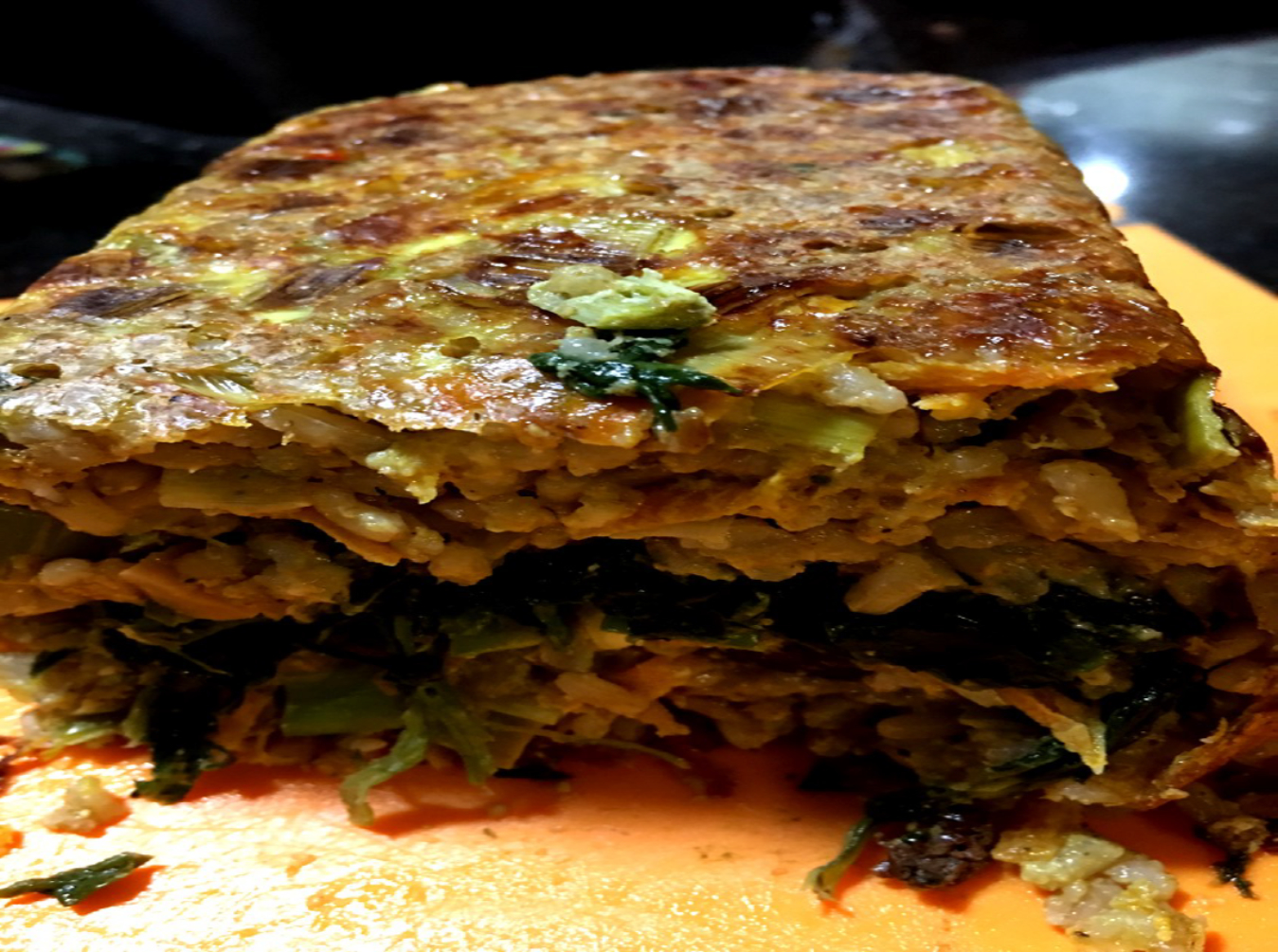 Much lighter than a nut roast, this simple recipe makes a great main course any time of year. I have put it in the winter section because with these heavier ingredients—brown rice, eggs and cheese—it is best eaten when digestion is stronger. You can vary the recipe and use frozen mixed vegetables if you do not have any fresh. It is good with a vegetarian gravy or light mushroom sauce. You could use the sauce recipe in Chickpea & Walnut Filo Pastry Bake Serves 4-6 | Prep time: 1 hr (+ overnight soaking) | Cooking time: 2 hrs
220g short-grain brown rice, soaked overnight
250g spinach
50g ghee or coconut oil
1 red chilli, finely chopped
½ tsp fresh ginger, finely chopped
2 garlic cloves, finely chopped
2 celery sticks, cut into small chunks
1 leek, chopped into squares
1 large carrot, peeled and grated
2 tsp good quality curry powder
1 tsp salt
½ tsp black pepper
50g raisins, soaked in boiling water to soften (optional)
1 tbsp pine nuts or cashews/sunflower seeds, toasted
2 eggs, beaten
150g vegan cheese (optional)
Rinse then soak the brown rice for at least 1 hour—ideally overnight. After soaking the rice rinse it once more and place in a large pan (or rice cooker if you have one). Add roughly 300ml water (or until the water comes up to your thumb knuckle when the tip of the thumb is on the top of the rice). Cover, bring to the boil then simmer for 30-40 minutes until all the water is absorbed. Turn off the heat and leave for a further 10 minutes. Remove the lid and allow to cool.
Steam the spinach and then squeeze out all the water through a sieve and chop finely (I pulse it in the blender).
Melt the ghee/oil in a frying pan and soften the chilli, ginger and garlic, then the celery. Add the leek and carrot to the pan, mix in well, turn off the heat and allow to cool.
Add the seasonings and the raisins and nuts, then stir this mixture into the rice then add the spinach. Finally add the eggs and cheese if you are using.
Grease and line a 2lb loaf tin and fill with the mixture. packing it down well and bake for 1 hour at 180°C.
P – Use a soft cheese rather than a hard one if possible, and a curry powder that does not contain chilli (i.e. not spicy) and accompany with green vegetables
V – If you find brown rice too heavy then this dish can be made with white
K – Sorry but best omit the cheese!