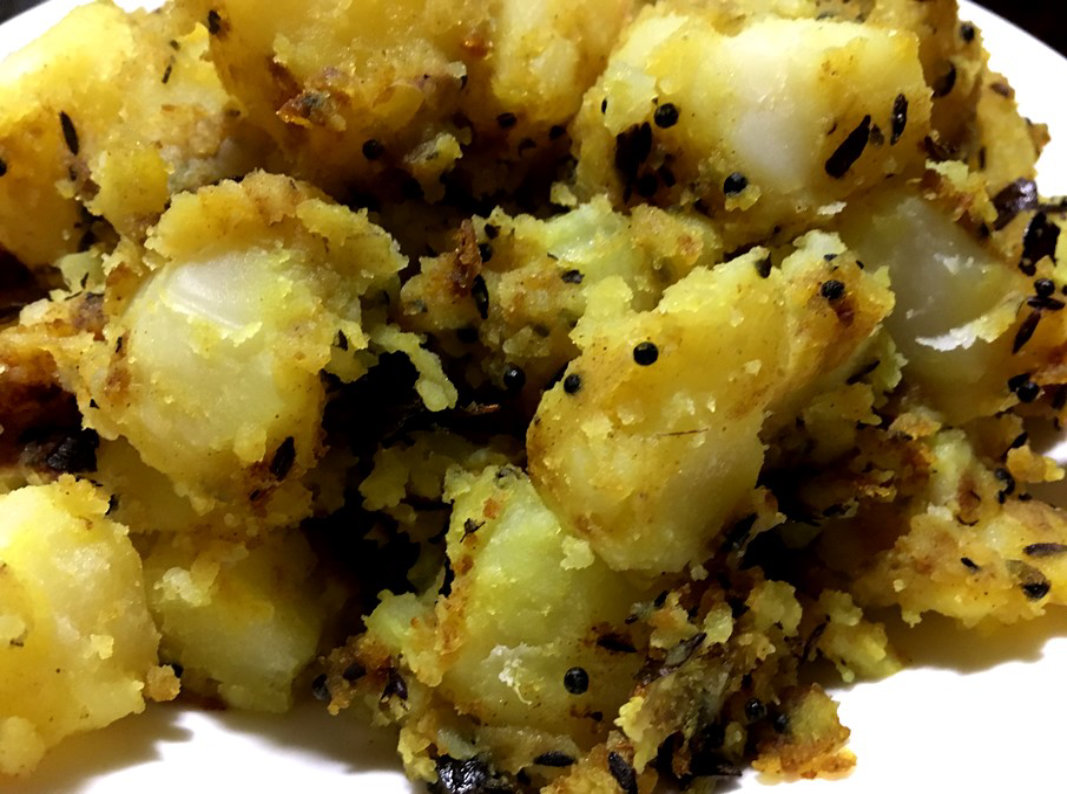 The Ayurvedic spices in this recipe really help to make potatoes more digestible as well as taste delicious.
For best results use a potato that is not too waxy but definitely not too floury as they need to hold their shape when boiled, not fall apart when fried, but be soft enough to absorb the delicious spices. Most Irish round potatoes will do the job. Don't get too hung up on this though as I often use whatever we have in the store and it always tastes good! Do leave time to let the potatoes cool in their skins, you can even cook them the day be-fore.
Serves 4 | Prep time: 40 mins | Cooking time: 10 mins
6 medium potatoes
3 tbsp ghee or coconut oil
½ tsp mustard seeds
1 tsp cumin seeds
½ tsp turmeric
A pinch of hing
1 tsp Himalayan rock or celery salt
1 tsp fenugreek leaves
1 tbsp coriander leaves, chopped
Wash the potatoes but leave the skins on. Put in a pan with cold water, then bring to the boil and simmer until just cooked. This will take about 15-20 minutes (less if they are freshly dug). You can test with a fork, if they are a little underdone that does not matter.
Take the pan off the heat and leave the potatoes in the water until it cools. Then remove, drain, peel off the skins and chop into cubes.
Heat the ghee/oil in a frying pan or wok, then add the mustard seeds and let them sizzle and pop. Then add the cumin seeds, turn the heat down and add the turmeric, hing, salt and fenugreek leaves.
Make sure the spices are well mixed then turn the heat back up and add the potato cubes. Mix and fry until they are golden and crispy.
P – You do not want to overload on the nightshade vegetables but the spices help reduce the inflam-matory properties—perhaps halve the mustard seeds and add extra coriander
V – Potatoes can be heavy to digest causing gas and bloating, but again the spices should help—enjoy in small amounts
K – Lots of carbohydrate and ghee here so eat in moderation—you can add crumbled dried chilli after the mustard seeds and extra fenugreek