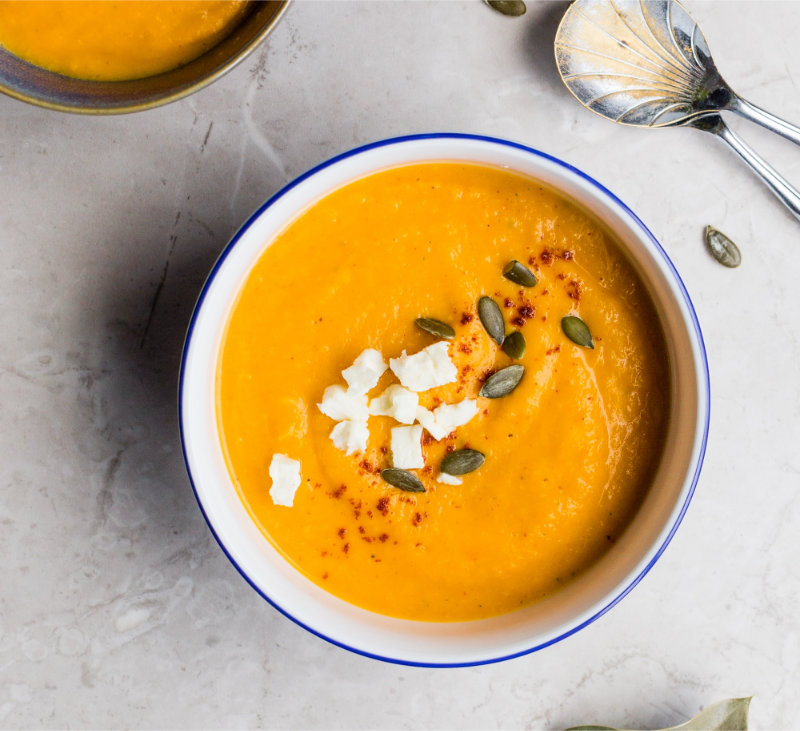 This simple soup has a good balance of flavours with a little chilli (spicy), coconut (sweet) and tamarind (sour). It can also be served as a dhal, just reduce the amount of liquid to the required consistency.
Serves 4 | Cooking time: 50 mins
150g split red lentils or mung dal
2 tbsp coconut oil
1 dried chilli
1 knob of ginger, finely chopped
2 cloves garlic, finely chopped
1 small leek, diced small
1 carrot, diced small
1 celery stick, diced small
1 large dried shiitake mushroom, soaked until reconstituted (can also use button mushrooms)
1 tsp turmeric
1 tsp cumin
1 tsp coriander
½ cup tomato passata
1l vegetable stock (use a cube or make your own)
50g coconut cream
Wash the lentils and put in a large pan with water to cover generously, bring to the boil and then simmer for about 40 minutes until they are soft.
Heat a wok then add the coconut oil. Break the dried chilli into pieces (discard the seeds if you do not like too much heat). Once the wok is hot throw in the chilli, ginger and garlic. Allow them to sizzle, then add the diced leek, carrot, celery and shiitake mushroom. Stir well then add the ground spices. Keep stirring until the vegetables begin to soften, then add the tomato passata and stir again.
Add the cooked lentils, mix in well and pour in the vegetable stock. Bring to the boil and simmer for a further 5 minutes. Finally add the coconut cream and the tamarind and stir until they are blended. Taste and add salt if liked.
Note: this soup can be blended for a smoother consistency but is fine as is.
P – Perhaps omit the chilli and the passata
V – Go easy on the chilli and tomato—use extra cream
K – Use coconut milk instead of cream