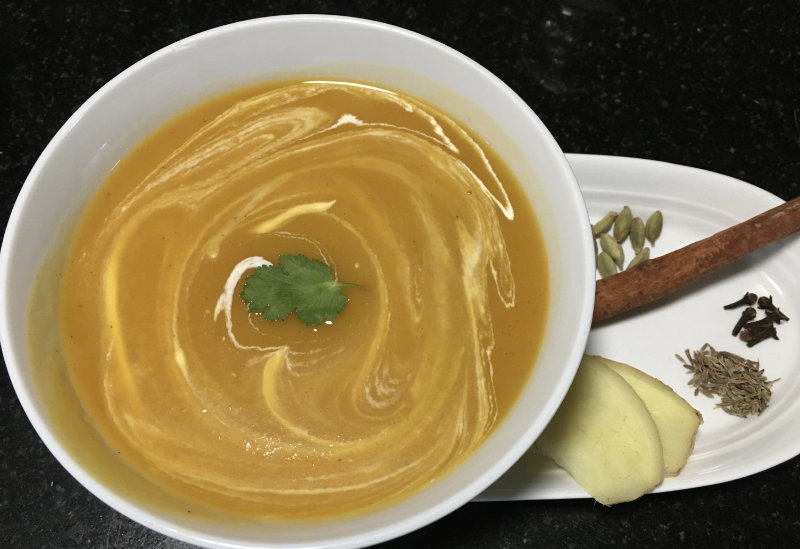 The spices in this simple recipe make the vegetables easily digested and really tasty. A good mix of vegetables to use is onion, (mainly) pumpkin, carrot and perhaps one small potato.
Serves 4 | Prep time: 15 mins | Cooking time: 30 mins
4 cups mixed vegetables, cubed
Water, filtered if possible
Knob of ginger, finely chopped
1½ tsp cumin seeds (or 1½ tsp ground)
6 whole peppercorns (or ¼ tsp ground)
3 inch piece of cinnamon stick (or 1 tsp ground)
5 cloves (or ⅛ tsp ground)
10 cardamom pods (or 1 tsp ground)
2-3 tbsp ghee or coconut oil
½ tsp salt
200ml coconut milk or to taste
If you are using whole spices, grind them to a fine powder.
Melt the ghee or oil and lightly fry the spices, ginger and onion (if used). Add the vegetables, coat well with spices, and fry until the outsides of the cubes begin to soften. Cover with enough water and simmer until the vegetables are soft (about 30 minutes).
Transfer to a blender with just enough of the liquid to lubricate, blend to desired consistency then add more of the water depending on how thick you like your soup. Add the coconut milk and more water if liked.
P – Eat as often as possible
V – Great for you and be generous with the coconut or add organic cream
K – Should go easy on the coconut (but it is nice)