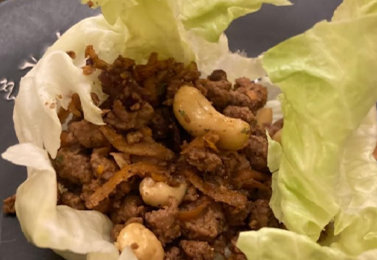 This simple vegetarian dish was adapted from a Chinese favourite by my eldest son. The concept of 'wraps' is very popular in cultures where dishes are shared. I seldom use meat substitutes but a plant based 'minced meat' is the best option in this instance. It makes for a very sociable eating which in itself contributes to good digestion, and it can add variety to a veggie or vegan meal.
Neither Ayurveda nor Chinese dietary therapy use a lot of raw lettuce—too hard on the digestion and not many nutrients—but in this recipe they add texture and contrast to the spiced filling.
Serves 2 as a main or 4-6 as a starter |  Prep time: 2+ hrs |  Cooking time: 15 mins
450 g bag of good quality plant based 'mince'
For the marinade:
2 tbsp dark soy sauce
3 tbsp shaoxing cooking wine (or sherry or even white wine)
1½ tbsp Chinese black vinegar (or
Balsamic)
2 tsp five spice
1 tsp garlic granules (or 1 clove garlic finely chopped) 1 tsp ground ginger
½ tsp chilli oil (optional)
½ tsp black pepper
Good pinch salt
½ small onion, very finely chopped
1 small carrot, grated
4 tbsp ghee or coconut oil
Fresh lettuces leaves, separated
75g raw cashews, roughly chopped
Marinate the 'mince' in the spices and seasonings. Leave for at least 2 hours.
Fry the onion until it starts to soften, then add the raw cashews and toss until they just start to brown.
Add the spiced mince and the carrot. Fry for about 10 minutes until everything is heated through, adding more oil or ghee if needed.
Serve with the lettuce leaves used as wraps.
P – go easy on the chilli oil and if you have a true Pitta metabolism you will probably want a carbohydrate with it
V – Vata's struggle the most to digest raw food so not too many wraps
K – a good meal for Kaphas as it makes a little last a long time