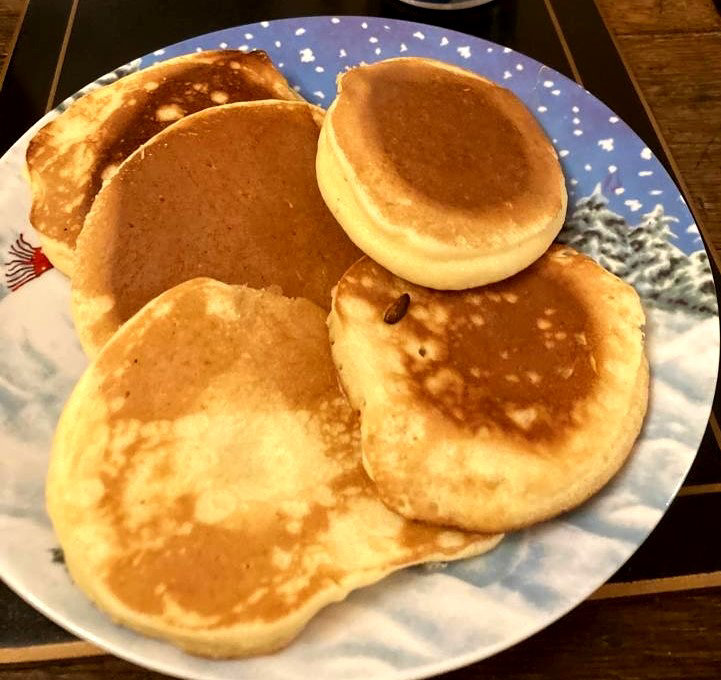 Using gluten free flour makes these pancakes easier to digest and a much lighter alternative to breads made with yeast.
The amount of batter should make 8 decent sized pancakes, but you can make them smaller or larger as liked.
Serves 4 | Prep time: 20 mins | Cooking time: 5 mins
250g self-raising gluten-free flour
225ml oat milk
1 egg
1 tsp lemon juice
1/2 tsp bicarbonate of soda
2 tsp sugar (optional)
More lemon juice and maple syrup to serve
Sieve the flour into a bowl. Add the sugar and mix together. Crack the egg into the centre and gradually add the milk, whisking as you do so (I use a hand held electric whisk). Add the lemon and bicarbonate of soda last and allow the batter to rest for at least 10 minutes. The batter will feel like a loose cake batter at this stage.
After 10 minutes the batter will have thickened and filled with little bubbles. Do not stir.
Heat a frying pan on a medium heat. It is not necessary to add any fat though I like to add a little for extra flavour. For medium sized pancakes, spoon 4 tablespoons of batter per pancake into the pan. Wait for bubbles to appear on the surface and pop, be patient, this should take about 2-3 minutes. Once bubbles have popped you can turn your pancake over, the second side will need only 20-30 seconds.
Serve with lemon juice and maple syrup, or a topping of your choice.
P – Good sustaining food but go easy on the lemon juice
V – Enjoy……with cream or coconut cream if you like
K – In moderation