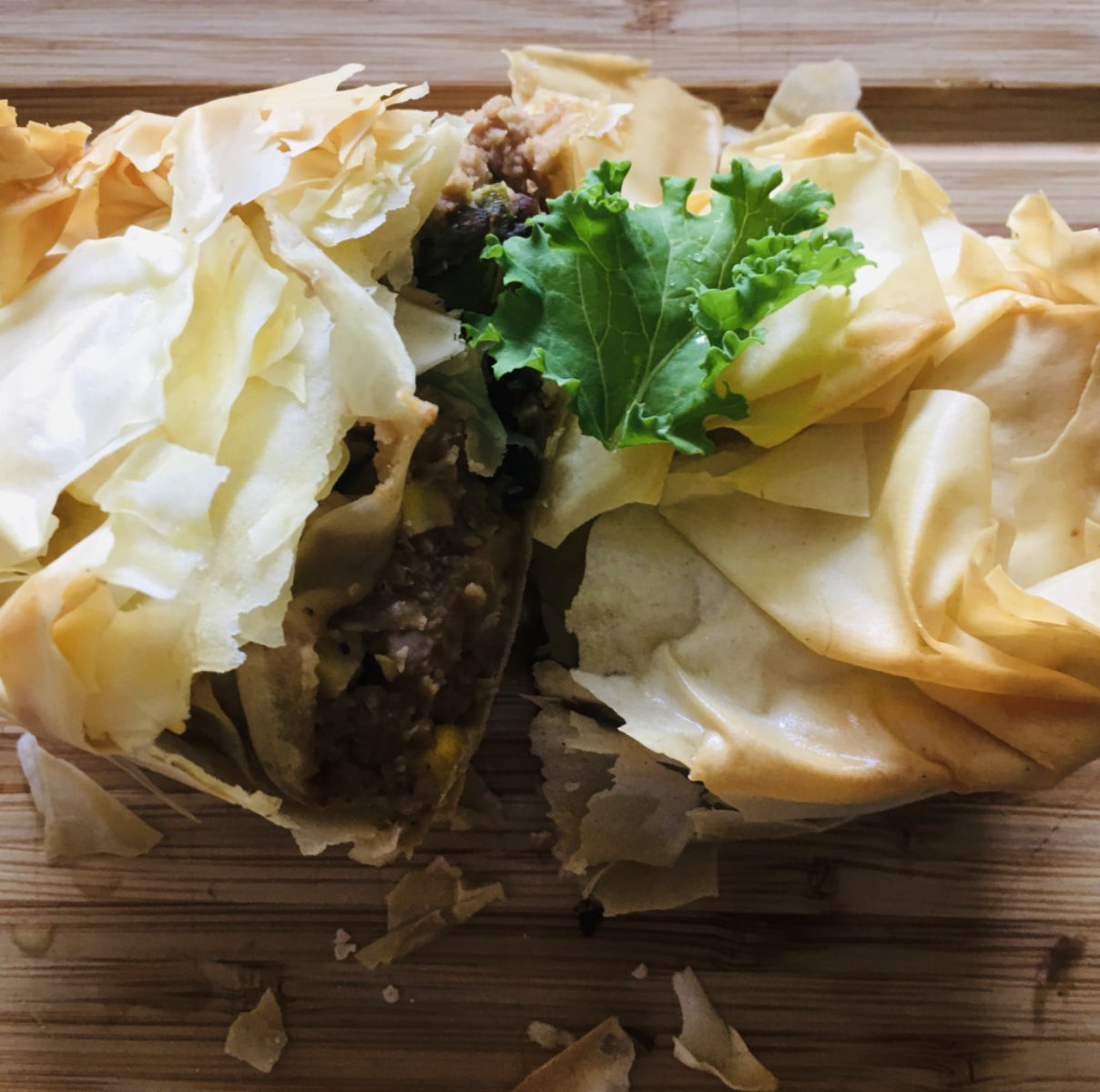 Much simpler than it looks, this is a delicious centerpiece for a special occasion.
Serves 4-6 | Prep time: 30 mins | Cooking time: 45 mins
220g dried chickpeas, or 1 450g can cooked chickpeas
150g walnuts, very lightly toasted in a frying pan
150g breadcrumbs
1 onion, chopped into small dice
4 medium mushrooms, diced
50g canned or thawed frozen sweetcorn, drained
2 garlic cloves, very finely chopped
2cm knob of ginger, peeled and finely chopped
1 tsp ground cumin
2 tbsp cooking wine
1/4 vegetable stock cube, dissolved in 2 tbsp hot water
1 tbsp chopped coriander
75g ghee, coconut or another oil for greasing and layering the pastry
6-8 filo pastry sheets
For the sauce:
1 tbsp ghee or coconut oil
1 garlic clove, finely chopped
1 small red chilli, deseeded and finely chopped
½ leek, thinly sliced
400g mushrooms, sliced
1 tbsp plain flour
1 tbsp white wine (optional)
375ml oat milk
The remainder of the stock cube dissolved in 2 tbsp water
First make the filling. Put the chickpeas, toasted walnuts and breadcrumbs in a food processor and blend until smooth.
Melt a tablespoon of ghee in the pan and fry the onion, mush-room, garlic and ginger until soft. Stir in the ground cumin. Mix the cooked vegetables with the chickpea mixture, add the sweetcorn, the liquid ingredients and the coriander and mix well. Keep covered so it does not dry out.
Put the oven on to heat to 200°C. Then prepare a 2lb (900g) loaf tin. If you are using a solid fat, heat to melt then lightly grease the loaf tin and line with greaseproof paper leaving plenty of overlay. Then grease the inner side of the paper too. Next line the tin with filo pastry, cutting each sheet into two pieces, lightly brushing with fat in between the layers. Filo pastry sheets can vary in size but I usually find that if I cut 1 sheet to create a rectangle with one 20cm side and lay it from long to long side of the tin, the re-maining piece is just the right width to lay from short side to short side.
Gently press the sheets into the in to line it, adding a little melted fat in between each layer. Use up to 6 sheets in total. There should be plenty of overlay to cover the top too but if not you can use additional sheets when the filling is in. Add your filling to the lined tin. Fold over the overlapping bits of the pastry. If you have spare sheets you want to use up you can crumple them on top. Either way brush on a little extra melted fat. Bake in the pre-heated oven for 30 minutes until the top is golden brown.
To make the sauce, heat oil in a non stick frying pan over medium heat. Add garlic and chili, stir, then the mushrooms and leek. Cook, stirring for 3 to 4 minutes or until soft. Add flour and cook for 1 minute. Splash in the white wine, stir until it is absorbed. Add oat milk gradually and the dissolved stock cube, stirring until it comes to the boil. Reduce heat to medium and simmer for 4 minutes or until thickened.
To serve, use the baking paper liner to lift the loaf out and cut into slices. The bake definitely needs a sauce: if you do not have time to make the recipe here then you can cheat and use a veggie gravy mix.
P – A good filling dish for a special meal or any time
V – Chickpeas can be hard to digest, see ingredient focus below
K – Enjoy with plenty of cooked green vegetables
INGREDIENT FOCUS:
Chickpeas, like all pulses, are a good source of protein for non-meat eaters, especially when accompanied by rice, but they can be hard to digest, especially the larger ones.
If you are new to using pulses then perhaps buying them ready prepared is a good op-tion. But soaking and cooking our own is believed to be more nutritious and it also allows you to take steps to make them more digestible. These include:
Sufficient soaking time: For most of the large pulses this is a minimum of 4 hours. Chickpeas and some of the other larger beans actually need 8 hours. If in doubt soak them overnight.
Plenty of changes of water: Wash well after soaking, bring to the boil, change the water again. Keep changing if there is 'scum' on the water, as this is the methane gas.
Adequate cooking time: Chickpeas need 2 hours, longer if they are old. Boil for the first 10 minutes. Some pulses contain a toxin that needs to be boiled, it is easier to do this for all large pulses (not lentils).
Add seaweed to the cooking water: It helps soften them and absorbs the methane than can cause digestive problems.
Use spices: Add ginger, cumin and 'hing' in your recipes to help digestion.
Some people may find chickpeas more digestible when ground or mashed such as in the recipe above. Finally, avoid serving chickpeas with another heavy or harder to digest foods such as cheese or even potatoes.