This simple nutritious dish can be varied to use any vegetables you have in the fridge, and it is great when made in a slow cooker. Served with rice it provides complete protein just like the Kitchari recipe. This stew reheats very well too and can be frozen if you want to cook it in bulk.
Serves 4 | Prep time: 10 mins| Cooking time: 1 hr 15 mins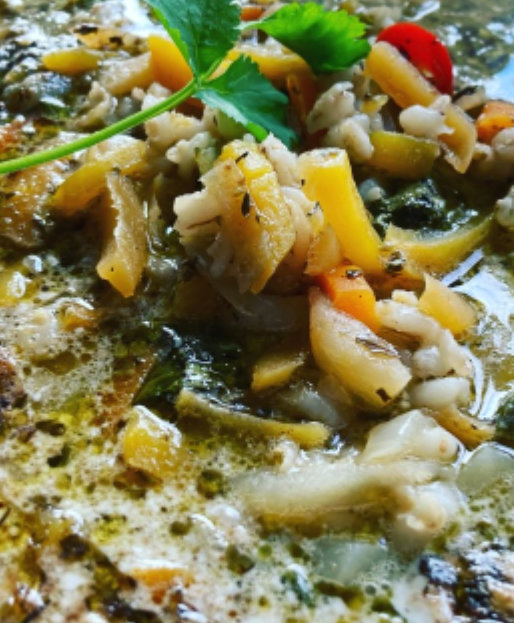 1 tbsp coconut oil (or oil of choice)
1 tsp black mustard seeds
1 tsp cumin seeds
3 garlic cloves, thinly sliced 2cm knob fresh ginger, finely chopped
1 onion, chopped 4 mushrooms, soaked shiitake mushrooms preferably (optional) 1 sweet potato or other root vegetable, diced 2 tomatoes, peeled and chopped (or use ¼ cup passata or a squeeze of tomato puree)
1 tsp turmeric 1½ cups dry mung beans, rinsed and drained
4-6 cups water or vegetable stock 500g fresh green leaves, roughly chopped (350g prepped)
200ml coconut milk (if you like it creamy use more coconut and less stock)
1 lime, juiced (optional) Salt to taste
Rice or quinoa, to serve
In a medium pot over a medium-high heat add the oil. Once hot add the mustard seeds, let them pop, then add the cumin seeds. Add the garlic, ginger and onion. Sauté until the onions are translucent, stirring often, for approximately 7 minutes.
Add the root veg and tomato if using, add the turmeric and stir to coat in the onion medley. Add mung beans and vegetable stock and coconut milk.
Cover, raise the heat to high and bring to the boil. Once boiling, reduce the heat to allow the stew to  simmer for 45 minutes, until the mung beans are cooked through. Add the tomatoes and spinach and cook for a further 5-10 minutes, until the spinach wilts.
Remove from the heat. Add lime juice and season to taste. Serve with rice or quinoa.
P – Enjoy
V – Enjoy
K – Add some chilli, perhaps omit the mushrooms and go easy on the coconut cream—but this is really a great dish for all Doshas